[B]ecause it's Monday. Because it's just about summertime. Because we like fruit with our breakfast. Because we're grown and we can do what we want… we get to drink lots of coffee and eat lots of cake for breakfast.
Blueberries, oats, and pure maple syrup make anything breakfast so… CAKE it is!
I've been experimenting a lot with gluten-free baking lately. I'm sure you've noticed. It's possible you have a question mark in your mind about it. Well… I want to learn how to bake without wheat. Baking is such a science and I know how wheat flour interacts with leavening and liquid. Gluten-free flours are a whole different science. I want to know that I can still make fluffy cakes and flakey biscuits in the absence of wheat. So far I've had some major fails and happy triumphs. This is one of the triumphs.
Eventually I'm going to try making my own gluten-free flour blend to use in my kitchen but I'm still getting my footing. Right now I use King Arthur Flour's Gluten-Free Flour and I'm going to give Gluten-Free Girl and the Chef's All-Purpose Flour Blend. They know what's what!
If you're hoping for more gluten-FULL coffee cake recipes, here's your jam:
• Sour Cream Coffee Cake with Brown Butter Glaze. A recipe from my cookbook Homemade Decadence.
• Pear Crumble Coffee Cake. You might not be in the mood for pears, but I think strawberries would also be mega!
• Coffee Coffee Cake Muffins. I mean… let's make our cake taste like coffee!
• Brown Butter Blueberry Muffins. These really are THE BEST!
There's a real happiness in creaming butter and sugar and adding eggs. It's a sign of a right future.
For extra flavoring, vanilla extract and a good dose of maple syrup.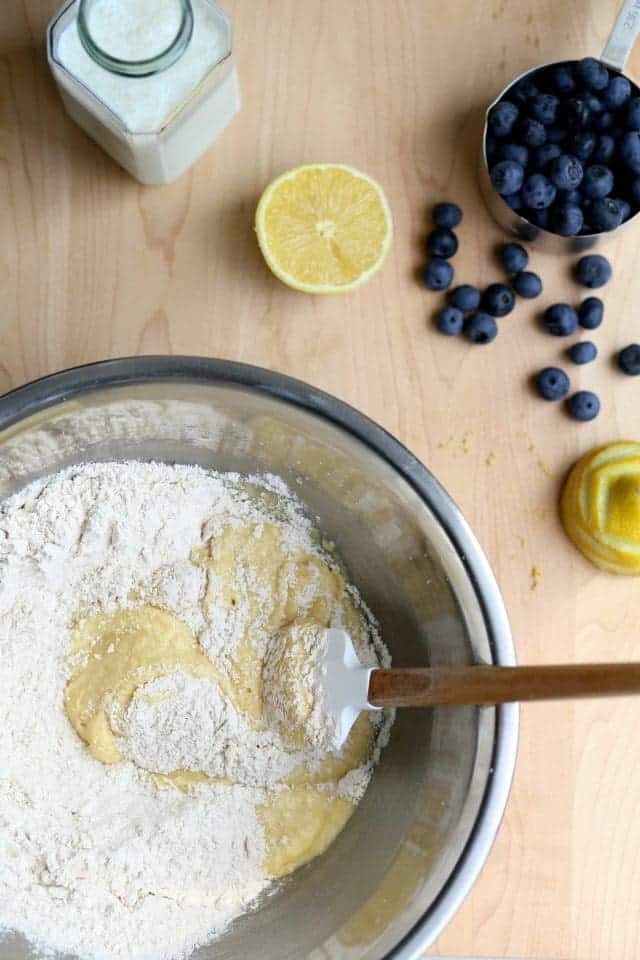 I use a hand mixer to cream the sugar and beat in the eggs and flavoring. When it comes to stirring in the dry ingredients, I like to use a spatula. It helps me be more gentle with the batter and doing things by hand helps me get into the bottom edges of the bowl to ensure everything is evenly mixed.
Fresh blueberries because it's summer and we can!
The batter will be smooth and rather thick. Not pourable. Definitely spoonable. Stud the top with blueberries before the crumble goes to topping.
I added oats to my topping. Gluten-free. Last minute baker's decision.
Just begging for the oven.
Golden brown with bubbling blueberries. I mean… what a world. It's a good one.
Because enough doesn't always seems like enough, I served this breakfast cake warm with a hearty drizzle of maple syrup. Make it rain. Make it rain maple syrup.
This coffee cake, though gluten-free, is light and fluffy. It's spongy and moist and studded with fruit. Basically, it's exactly what you want it to be. This recipe is adapted from this recipe here… if you're interested in an alternate topping.
Print
Gluten-Free Lemon Blueberry Coffee Cake
Author:

Prep Time:

20

Cook Time:

45

Total Time:

1 hour 5 minutes
---
For the Cake
2 1/2 cups

all-purpose gluten-free flour

1 teaspoon

xanthan gum

1 teaspoon

baking powder

1/2 teaspoon

baking soda

1 teaspoon

ground cinnamon

1/2 teaspoon

salt

1 cup

granulated sugar

1/2 cup

unsalted butter, at room temperature

1

heaping tablespoon lemon zest

2 teaspoons

pure vanilla extract

3 tablespoons

pure maple syrup, plus 3 tablespoons more for topping

2

large eggs

1 1/2 cups

buttermilk

1 cup

fresh blueberries
For the Topping
1/2 cup

all-purpose gluten-free flour

3 tablespoons

unsalted butter, cold and cut into cubes

3 tablespoons

granulated sugar

3 tablespoons

old-fashioned oats

1/2 teaspoon

ground cinnamon

1/2 teaspoon

ground nutmeg
pinch of salt
---
Instructions
Place a rack in the upper third of the oven and preheat oven to 350 degrees F. Grease and flour a 9-inch square baking pan and set aside.
In a medium bowl, whisk together flour, xanthan gum, baking powder, baking soda, cinnamon, and salt. Set aside.
In the bowl of an electric stand mixer fitted with a paddle attachment (or you could use a large bowl and a set of hand beaters) beat together sugar, butter, and lemon zest until light and fluffy, about 3 to 5 minutes. Beat in the vanilla extract and maple syrup.
Beat in the eggs, one egg at a time, beating for 1 minute between each addition.
Stop the mixer and remove the bowl from the stand. Add the dry ingredients, all at once, to the butter mixture. Use a rubber spatula to fold a few strokes. Add the buttermilk and fold until just combined. Be sure to scrape the bottom of the bowl well to evenly mix the batter.
Add the blueberries (reserving a small handful for topping) and fold to combine.
Spoon the batter into the prepared pan and smooth the top with a spatula. Sprinkle on the remaining blueberries
To make the crumble, in a small bowl combine all of the ingredients and use your fingers to break up the bitter bits into the mixture. Some of the butter will be the size of small peas, others the size of oat flakes.
Sprinkle the topping over the cake and place in the oven. Bake for 40 to 45 minutes or until a skewer inserted in the center of the cake comes out clean or with just a few moist crumbs. Allow the cake to cool for 30 minutes before serving.
Drizzle with maple syrup before serving.
Cake will last, well wrapped at room temperature, for 3 days.
---