I've lived in New Orleans long enough now that I have a jar of fry oil stored in my refrigerator for emergencies that require beignets. Oh… some emergencies require beignets. I know that now. I also have a respectable amount of powdered sugar in the pantry and a hurricane kit in the office so… I'm ready for whatever comes at me down here.
Having been here a handful of years, I feel safe enough to play around with the mighty beignet. Seeing as not all of you have fry oil stored just for beignets I though… let's bake these babies. All the pillowy action you want from a beignet but baked, butter brushed, and piled high with powdered sugar. These are a fast rise, fast bake – really the quickest way to beignet.
See also: Sugar Dusted Beignets, Red Beans and Rice Nachos and Gumbo Poutine.
Here's what you'll need:
• flour, salt, sugar, and a pinch of cinnamon.
• active dry yeast and baking powder, for lift on all sides.
• butter, egg, and whole milk to enrich the dough with flavor and fat.
• a boatload or so of powdered sugar + melted butter for topping.
We'll start by making the dough.
In the bowl of a stand mixer combine flour, sugar, baking powder, salt and cinnamon.
The yeast we'll activate in warm water with a pinch of sugar until it's alive and foamy. Add the yeast to the dry ingredients.
Whisk together the egg and milk and add to the bowl of flour, too.
With the dough hook on low, begin to combine the wet and dry ingredients. Add the softened butter a few chunks at a time until it incorporates.
The dough will be soft and should begin to pull away from the sides of the bowl and gather around the dough hook.
You may add 1/4 cup more flour if the dough feels too wet and sticky. The dough should be moist but not terribly sticks.
Work the dough for 5 to 7 minutes on the mixer, until the dough mostly smoothes.
These baked beignets have a quick rise.
After mixing the dough will rest for 15 minutes before it's rolled out and sliced into beignet squares.
Once on the baking sheet, the dough will rise for another quick 30 minutes before hitting the oven.
Now here's the thing: these beignets won't brown as they would if we were to fry them. This is a different thing. If you'd like to brown your baked beignets a bit more, you can brush them lightly with egg wash before baking. I skipped this step because I didn't mind some pale little buddies.
Bake up to puffy and light!
While the beignets are still warm, brush generously with melted butter and top with powdered sugar… and then a little bit more powdered sugar. More is more.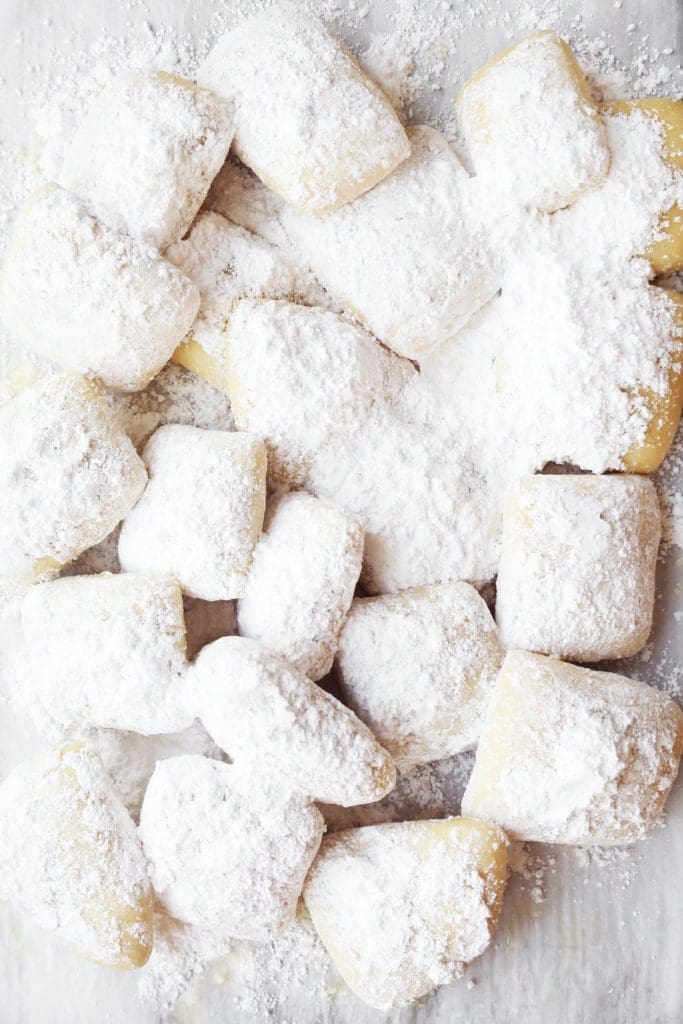 The question you're asking is the same question I asked myself.
Are these as good as fried beignets?
Listen…. no. But they're dang good!
Are baked fries as good as fried fries? Are baked doughnuts as good as fried doughnuts? No way. But they're different and delicious and absolutely worth the baking adventure.
Baked Beignets
Prep Time:

0 hours

Cook Time:

0 hours

Total Time:

0 hours
---
For the dough:
1/4 cup

warm water
Pinch of granulated sugar

2 1/4 teaspoons

(

1

package) active dry yeast

3 1/4

–

3 1/2

cups all-purpose flour

1/4 cup

granulated sugar

1 teaspoon

sea salt

1 teaspoon

baking powder

1/4 teaspoon

ground cinnamon

1

large egg

3/4 cup

whole milk, lightly warmed

4 tablespoons

unsalted butter, at room temperature, sliced into chunks
For the topping:
4 tablespoons

unsalted butter, melted

3 cups

powdered sugar
---
Instructions
Place warm water in small bowl; sprinkle with yeast and a pinch of granulated sugar. Stir and let stand until foamy, about 5 minutes.
In the bowl of a stand mixer fitted with a dough hook, combine flour, sugar, baking powder, salt, cinnamon, and remaining granulated sugar until combined.
With fork, whisk milk and egg into yeast mixture until blended. Add the yeast mixture to the dry ingredients on the stand mixer. Stir with a rubber spatula into a shaggy dough.
Turn the mixer on low speed, add the room temperature butter in chunks until well combined and the mixture turns into a soft and smooth dough.
Cover with plastic wrap; let stand 15 minutes.
Line two rimmed cookie sheets with parchment paper and spray with nonstick cooking spray.
Punch down dough. On floured work surface, with floured rolling pin, roll dough to 9-in. square. With floured knife, cut dough into 6 strips, then cut each strip into 6 pieces, making 36 (1½-in.) square pieces. Transfer beignets to prepared cookie sheets, placing about an inch apart. Cover loosely with a clean kitchen towel and let rise 30 minutes.
Place a rack in the center and upper third of the oven and preheat oven to 400°F. Bake beignets 10 to 12 minutes, or until lightly golden brown, rotating sheets between upper and lower racks halfway though baking.
Remove from the oven and allow to cool for 10 minutes. While beignets are warm, brush with melted butter and toss with generously with powdered sugar. Enjoy warm, the same day they're baked.
---
Little dough pillows covered in sugar. That's what you can expect from beignets and, baked or fried, they never disappoint.
Also… while we're sidestepping traditional beignets, I also love these little darlings with boysenberry jam or lemon curd.