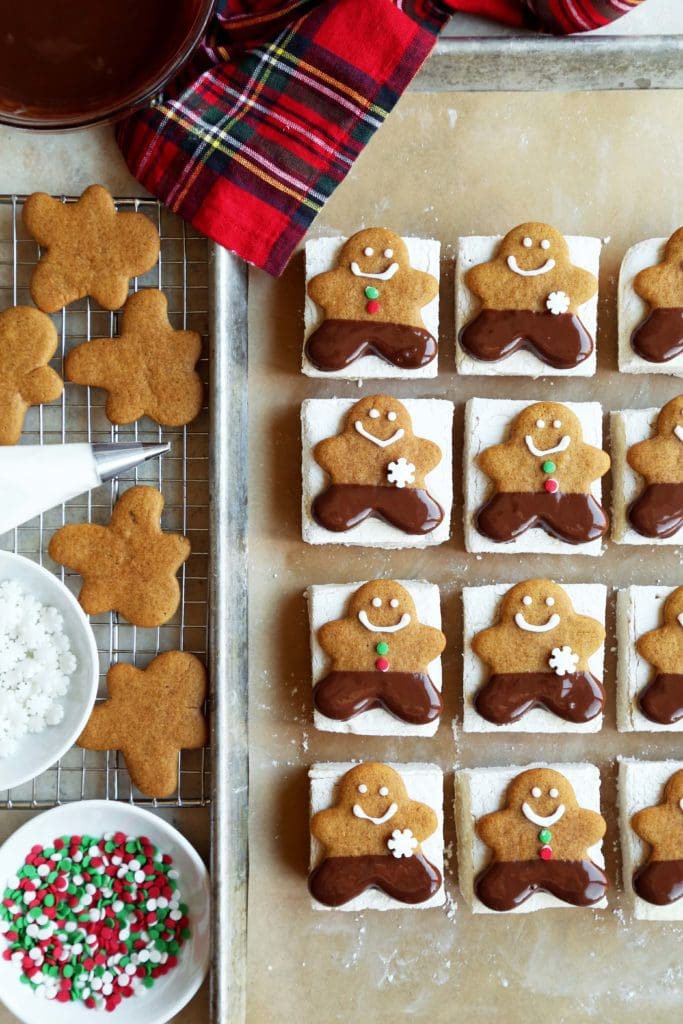 It's funny – this year my dining room table is dotted with the most lovely Christmas cards from friends who don't usually send such formal holiday greetings. I'm usually a holiday card sender, but just didn't feel the spirit move me this year. 2020 has us all on our heads in big and little ways.
I've given most of my holiday card energy to my cookie baking endeavors. Friday afternoon is the big bake off and box up of this year's offering. The baking, boxing, bowing, and gifting is where all the joy lives for me – I'm so excited!
Maybe you have a big bake planned this weekend. Can I add to it?
The invitation is fluffy spiced marshmallows topped with gingerbread cookie people – chocolate dipped, of course.
I've made these for my cookie tins the last two years and I've finally gotten my act together enough to share it with you. I hope you find some space for this little bit of holiday cheer – and I apologize for the dishes that result. I'm in the same boat in solidarity.
For these marshmallow cookie treats you'll need to make little fuss in your kitchen. Get ready for to simmer sugar and crank that stand mixer to high. You'll want molasses, cinnamon and spices, brown sugar, and enough powdered sugar to make a mess.
Have you ever made marshmallows? They're a particular form of wizardry.
First you'll boil a molasses sugar syrup until it reaches 240-250 degrees F. This is the sort of baking move you'll want a candy thermometer for because we really do need the sugar in that temperature range to get the moisture right in these marshmallows.
Once the sugar is boiled to a hot syrup, it's streamed into a stand mixer with hydrated gelatin. I know I know! It sounds wild and it feels crazy once you're doing it but trust yourself and trust the process! The mixer will coax the sugar and gelatin into a fluffy, cream colored, sticky, melted marshmallow batter. The whipped marshmallow mixture will be thick enough to hold the lines of the whisk before relaxing back into itself (pictured above). If it's not quite there – whip it a few minutes more.
The marshmallow batter is poured into a well-greased, well-sugared square pan. Top with a quality dusting of powdered sugar and let rest overnight, loosely covered. The marshmallows will dry and set into fluffy little squares. That's it! Ya did it!
If you have some marshmallow drama – Shauna Sever has a fantastic Marshmallow Troubleshooting Guide.
While the marshmallows rest, make a small batch of gingerbread dough.
Let the cookie dough rest in the refrigerator overnight.
This big break gives you time to reset the kitchen and make a batch of Everybody's After School Cookies – one of the cookies going in my cookie tins to my neighbors this weekend.
When you're ready to assemble the marshmallows and cookies (after your second cup of coffee, of course), start by rolling the cookie dough between two pieces of parchment paper.
Cut with mini gingerbread cookie cutters, though any holiday shape will be cutie.
Bake the cookies.
Slice the marshmallows with a greased knife.
Melt chocolate with coconut oil.
Rummage around the cupboards for holiday sprinkles.
You have the right to squeeze each marshmallow as many times as feels good. It's so satisfying.
Dip your gingerbread folks' pantaloons in chocolate and place on the marshmallow. As the chocolate sets, the ginger people will glue to the marshmallow.
Decorate with sprinkles and royal icing if you'd like – though they're just as cute with simple sprinkles!
Add to hot chocolate and you've got your marshmallow and dipping cookie all set!
Some things are just precious – here we are.
• Other marshmallow moments you might enjoy? This Buttery and Salty Marshmallow Popcorn from a few years back – think: Rice Krispie Treat plus corn flakes and popcorn instead of puffed rice!
• Other gingerbread moments I want for you? This Gingberbread Dutch Baby – an easy show stopper of a winter breakfast.
Happy Baking this weekend, friends!
Photos with Jon Melendez.
Print
---
Description
Fluffy gingerbread spiced marshmallows topped with crisp, chocolate-dipped, ginger cookies.
---
For the Marshmallows:
1 cup

cold water, divided

2 1/4

-ounce packages unflavored gelatin (

1/2 ounce

total)

2 cups

granulated sugar

1/2 cup

light corn syrup

2 tablespoons

molasses

1/4 teaspoon

kosher salt

1 teaspoon

pure vanilla extract

1 teaspoon

ground cinnamon

3/4 teaspoon

ground ginger

1/4 teaspoon

fresh grated nutmeg
Pinch of cloves

1 cup

powdered sugar, for coating the pan and topping the marshmallows
For the Cookies:
1 cup

2 tablespoons (

135 grams

) all-purpose flour

1/4 teaspoon

baking soda

1/2 teaspoon

ground cinnamon

1/2 teaspoon

ground ginger

1/4 teaspoon

fresh grated nutmeg
Pinch of cloves
scant

1/4 teaspoon

kosher salt

2 tablespoons

unsalted butter, at room temperature

2 tablespoons

vegetable shortening, at room temperature

1/4 cup

lightly packed light brown sugar

3 tablespoons

molasses

1

large egg yolk

1/2 cup

chocolate melted with 1 tablespoon coconut oil
Sprinkles for decorating
Royal icing if you'd like to make more intricate details
---
Instructions
To make the marshmallows, Spray an 8×8-inch baking pan with non-stick cooking spray and coat with the powdered sugar. Set aside.
Pour 1/2 cup cold water into the bowl of a stand mixer fit with a whisk attachment. Pour the two gelatin packs over the cold water and let sit for about 10 minutes. If will firm to solid – that's right.
In a medium saucepan over medium heat, bring sugar, corn syrup, molasses, salt and the remaining cold water to a boil. Stir to dissolve the sugar. Attach a candy thermometer to the side of the pan and bring mixture up to 240 degrees F. There's no need to stir the mixture, just let it get hot hot hot!
When the sugar is heated to between 240-245 degrees F, turn the mixer with the gelatin and water on low speed. Carefully stream the hot sugar mixture into the bowl as the whisk moves. Be careful not to pour into the whisk and spatter the hot sugar all over the sides of the bowl. Gradually increase the speed of the mixer until you've added all of the hot sugar mixture. Beat on high for several minutes until a thick, fluffy, white marshmallow batter has formed… about 8 minutes. You want the whip until the batter holds is shape for several seconds before collapsing. Pour in the vanilla extract and spices and beat for another 2 minutes.
Spread the marshmallow mixture into prepared pan and smooth with a clean, wet spatula to prevent sticking. Top marshmallow with powdered sugar and let set and rest for at least 6 hours, or overnight. Overnight is best.
When set, remove marshmallow from the pan and place on a large cutting board coated with powdered sugar, Use a pizza cutter, coated with non-stick cooking spray to slice marshmallows. Coat the knife blade in a bit of powdered sugar if it begins to stick to the marshmallows during slicing.
To make the cookies, line a baking sheet with parchment paper or silicone baking mat.
In a small bowl, whisk together flour, baking soda, cinnamon, ginger, cloves, and salt.
In a medium bowl, use a hand-held electric mixer to beat butter and vegetable shortening until well-combined. Add sugar and beat on high until light and fluffy, about 1 minute. Add molasses and egg yolk and beat until completely incorporated.
Add flour one-third at a time and use a spoon to stir until well-mixed and no streaks of dry flour remain. Roll the dough out 1/4-inch thick between two sheets of parchment paper, slide parchment paper and dough onto a baking sheet or other flat surface, and refrigerate for at least 30 minutes.
Place a rack in the upper third of the oven and preheat your oven to 350°F. Cut out cookies, re-rolling dough between parchment paper as needed. Use a metal spatula to transfer cookies to prepared baking sheet and refrigerate for 15 minutes to allow cookies to firm up so they don't spread too much in the oven.
Bake for 9 to 11 minutes depending on cookie size, until edges are set. Cool on cookie sheet until cool enough to handle and then transfer to a wire rack to finish cooling.
Once cool, dip half of the cookie in melted chocolate and place a cookie on top of each marshmallow. Add sprinkles or royal icing decorations as you'd like.
Store in an airtight container at room temperature or in the refrigerator for up to 4 days.
---