[W]hat if there could be a treat that was like Rice Krispie treats, but also like a bowl of kettle corn, and then also salty, but then dotted with an obnoxious amount of sprinkles? That would be good news. Actually, that would be what's happening here!
It's success and celebration, all in a popcorn bowl.
Happy Monday! Just go for it: sprinkle and marshmallow everything today.
Related: I'm really into aggressively-flavored popcorn… Roy Choi's Furikake Kettle Corn
Here's how this magic happens. Fresh popped popcorn (from scratch is my favorite), corn flakes for crisp and crunch, marshmallows and butter because we're obnoxious geniuses, and sea salt because sweet needs salt.
Butter and marshmallows are melted down into a syrup. If you're thinking that this mixture resembled Rice Krispie Treats, you're right.
Related: Malty and Salty Brown Butter Treats.
I used a buttered sheet pan to assemble the popcorn. More marshmallow coverage. More room to spread and stir.
Warm buttery marshmallows drizzled over the popcorn and corn flakes and stirred. Salt and sprinkles too. Salt for balance and sprinkles for love and happiness.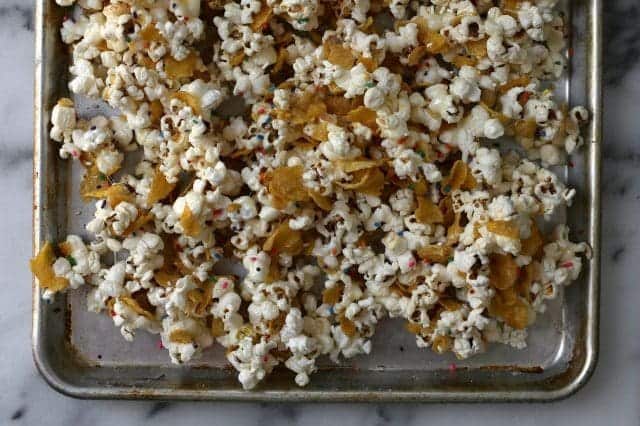 I would humbly suggest putting on the movie Step Brothers, pouring yourself a big glass of orange juice (my favorite with popcorn), and maybe a few wet wipes too. Things could get a little sticky.
Print
Buttery + Salty Marshmallow Popcorn Crunch
---
Description
Sweet and salty, crunchy and sprinkled, buttery and perfect.
---
For the Popcorn
1/4 cup

canola oil
heaping

1/3 cup

yellow corn kernels
(or about 12 cups of popcorn)
salt, to taste

2

heaping cups corn flakes
For the Marshmallow Sauce
1/2 cup

unsalted butter, plus more for greasing a pan

1

–

16

ounce bag mini marshmallows
salt, to taste
rainbow sprinkles, to delight
---
Instructions
To make the popcorn, in a medium saucepan with a tight-fitting lid, heat the canola oil over medium heat. Add the corn kernels in an even layer over the bottom of the pan. Place the lid over the pan, keeping the lid slightly ajar.
Allow popcorn to begin popping. When popping slows, remove from heat and sprinkle lightly with salt. Shake into a large bowl.
Lightly grease a large rimmed baking sheet. Set aside.
In a small saucepan, melt butter and add marshmallows. Stir the mixture until the marshmallows are completely melted. Remove from heat.
Spread popcorn across the greased baking sheet. Sprinkle corn flakes over the popcorn. Drizzle the warm marshmallow mixture over the popcorn and cornflakes. You may find that you don't need to use all of the marshmallow mixture. Use enough for a light coating of the popcorn and cornflakes. Use a large spoon to evenly coat all of the popcorn and cornflakes.
Sprinkle generously with salt and sprinkles and enjoy immediately.
---