What do you do when you can't sleep? Think of peanut butter cookies then get up and start baking?
There are two schools of thought.
The first: toss and turn it out. Stay in bed, take several deep breaths, and try to take your mind from the things that make it a hamster wheel. Don't. I repeat, do not pick up your phone to check the time or compare yourself to impossible people on Instagram. Just… you know… gently fall back into a peaceful sleep.
My brain has never let me do this, even once.
The second school of thought is one I subscribe to. Get up. Get out of bed. Walk a few blurry-eyed laps around the house while the coffee brews.  Write but schedule a few work emails as to not seem fully unhinged.  Most importantly, and after your first cup of middle-of-the-night coffee, turn on The Christmas Chronicles to watch it for the third time and make a few batches of cookie dough to freeze for future cookie tins.
Which brings us to here and now, 5am Friday December 4th in New Orleans.  I can say with confidence that I have a double batch of this peanut butter cookie dough in the freezer for cookie tin deliveries next week. It's casual and I don't mean to yell but THESE ARE THE BEST COOKIES OF THE SEASON. My mom makes these cookies with Hershey's kisses every year. She calls them Love Cookies. I've taken liberties and added Reeses peanut butter cups, making the cookies quite amiable to cookie swap boxes and holiday care packages.
The offering today is simple peanut butter and chocolate pairing. I hope this finds you well rested.
Here's what you need to make these Christmas Peanut Butter Cookies:
•  all-purpose flour, baking soda, baking powder, and just a bit of kosher salt.
•  softened butter and peanut butter.  For these cookies I tend to use peanut butter with additional oil like Skippy or Jiff.  It's like adding shortening to the cookies which help create a more tender cookie.
•  two sugars, brown and white.
•  an egg.
•  chocolate candies. Peanut butter cups preferred though anything chocolate is encouraged.
In a medium bowl we'll whip together softened butter with peanut butter and the two sugars.
Blend until well combined and nearly fluffy.
Beat in the egg.
Add the dry ingredients and stir together into a soft but thick dough.
I like to refrigerate the dough for 30 minutes or so while the oven preheats though this dough can go straight into the oven.
The option is to roll each dough ball in a bowl of granulated sugar before baking.
Bake the cookies until just a hint of golden brown kisses the edges. Remove from the oven and, while the cookies are still hot, press a peanut butter cup into the center of each cookie.
The chocolate candy will soften and melt within the warm cookie at which point you'll want to shove at least three into your mouth. That's your right as baker and I encourage it.  I recommend letting these cookies rest at room temperature until the cookies have cooled and the chocolate has set.
If you're not going to enjoy these cookies right away, I like to wrap them individually and store them on the counter or in the freezer.
Photos with my pal Jon Melendez.
Print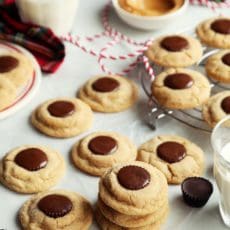 Peanut Butter Love Cookies
Author:

Prep Time:

40 minutes

Cook Time:

10 minutes

Total Time:

50 minutes

Yield:

about

24

cookies

1

x
---
Description
A classic Wilson family holiday cookie traditionally made with Hershey's kisses but made with peanut butter cups for ease in cookie tins for shipment and cookie swaps.
---
1/2 cup

(

100 grams

) granulated sugar, plus more for rolling the dough (optional)

1/2 cup

(

100 grams

) packed brown sugar

1/2 cup

(

119 grams

) creamy peanut butter

1/2 cup

(

113 grams

) unsalted butter, softened

1

large egg

1 teaspoon

pure vanilla extract

1 1/2 cups

(

192 grams

) all-purpose flour

3/4 teaspoon

baking soda

1/2 teaspoon

baking powder

1/2 teaspoon

kosher salt
About

24

mini Reeses peanut butter cups, unwrapped
---
Instructions
In large bowl, beat 1/2 cup granulated sugar, the brown sugar, peanut butter, and butter with an electric hand beater until pale and fluffy, 3 to 5 minutes. Beat in the egg and vanilla until well blended, about 1 minute.
Stir in flour, baking soda, baking powder, and salt until a thick cookie dough forms. Transfer the dough to plastic wrap or waxed paper and chill for 30 minutes before baking.
Place a rack in the upper third of the oven and preheat oven to 375°F. Line a baking sheet with parchment paper and set aside.
Shape dough into 1 1/2-inch balls and roll in a small bowl of sugar if you'd like. Place about 2-inches apart on the baking sheet. Press gently with the heel of your hand to flatten just a bit to a thick disc.
Bake for 10 minutes or until edges are light golden brown. Immediately press one reeses candy in center of each cookie. Remove from cookie sheets to cooling rack allowing to cool to room temperature before packaging to allow to chocolate to set.
Cookies will last, wrapped individually and left at room temperature, for up to 5 days.
---
Notes
This dough can be made ahead and frozen for up to two weeks. I like to portion the prepared dough into balls for baking (not yet rolled in sugar), and freeze until solid on a baking sheet. Once frozen, store in a zip lock bag. I like to thaw the dough balls in the refrigerator overnight before baking though you can bake them from frozen for an additional 3 or so minutes (just keep a keen eye).