THE Taylor Swift Chai cookies she adapted from my blog years ago.  A classic sugar cookie loaded with real chai spices and topped with a nutmeg glaze.  Perfect for the Autumn Girlie aesthetic.  See also: Taylor's Strawberry Chai Cookies and Taylor's Favorite Chocolate Chip Cookies!
Every fall for the last few years my blog lights up with new visitors. New visitors who have come to my blog is search of THE Taylor Swift Chai Cookies. We all know our dear Taylor loves to bake, loves cats, she seems to be a cozy, flannel wearing, autumn loving gal… I mean, it absolutely makes sense that she pop by Joy the Baker for this VERY vintage Giant Vanilla Sugar Cookies.
Taylor Swift took that old 2009 sugar cookie recipe, mentioned adding chai spices and an eggnog glaze, and because she's Taylor Swift – set the internet ablaze.  Good on ya, girl! You're doing it right, and your baking has so many people searching for the perfect sugar and spice cookie.
Apparently if you live like Taylor Swift for a week you must make a batch of these cookies.  I mean… I knew those Giant Vanilla Sugar Cookies were perfectly chewy and tender, but I finally took our friend Tay's advice and spiced them up just right.
Here's what you'll need for  Taylor Swift Chai Cookies:
•  softened unsalted butter and a neutral oil.  We'll use a mix of fats to bring together this soft and tender cookie.
•  granulated sugar and powdered sugar.  The powdered sugar will help absorb some of the moisture from the oil and make the cookies tender and chewy.
•  all-purpose flour, baking soda, and kosher salt.
•  chai spices: ground ginger, ground cinnamon, allspice, cardamom, cloves, and a pinch of black pepper.
•  an egg for binding
•  vanilla extract
•  powdered sugar for the glaze
•  a hint of nutmeg
•  milk or eggnog to create a glaze
First, whip the butter alone in a bowl just to ensure it's softened super well.
Beat in the oil as best you can.  The oil may not fully incorporate into the butter and that's ok.  Just get it all in the bowl.
Add the granulated sugar, powdered sugar and spices to the bowl with butter and oil.
I like to add the spices to the sugar and fat for this Taylor Swift cookie recipe because the fat helps distribute the warm spice flavors really well.  Fat always helps flavor.
Add the egg and vanilla extract.
Add the dry ingredients.  Set aside the hand mixer and stir in the flour into the wet ingredients with a wooden spoon or spatula.
The batter will feel soft – somewhere between a cookie dough and a cake batter.
Cover and refrigerate the dough for at least an hour to allow the flour to absorb the moisture and the butter to rechill.
Once chilled, scoop the dough into two tablespoon portions.  I use a cookie scoop then shape the dough into thick disks.
Coat each cookie dough round in cinnamon sugar before placing a few inches apart on a parchment lined baking pan.
While the cookies bake, whisk together an easy glaze with powdered sugar, milk (or better yet, eggnog) and extra ground nutmeg.
Spoon a teaspoon of glaze into the center of each cookie and sprinkle with nutmeg and allow to set.
Taylor is on to something. These are the sweetest fall cookies. Soft and tender for days!
Serve with chai tea? Too much?  More is just enough.
Print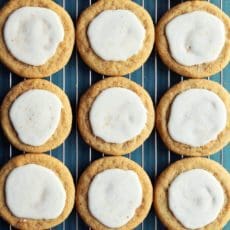 Taylor Swift's Chai Sugar Cookies
Author:

Prep Time:

1 hour 30 minutes

Cook Time:

12 minues

Total Time:

1 hour 45 minutes

Yield:

about

2

dozen cookies

1

x

Category:

dessert
---
Description
A perfect Autumn cookie with chai spices and extra nutmeg inspired by Taylor Swift.
---
For the Cookies:
1/2 cup

(

1

stick) unsalted butter, at room temperature

1/2 cup

vegetable oil (I like canola or sunflower oil)

1/2 cup

(

100 grams

) granulated sugar

1/2 cup

powdered sugar

1 1/2 teaspoons

ground ginger

1 teaspoon

ground cinnamon

1/2 teaspoon

ground allspice

1/4 teaspoon

ground nutmeg

1/4 teaspoon

ground cardamom

1/8 teaspoon

ground cloves
Pinch of fresh cracked black pepper

1

large egg

2 teaspoons

of vanilla extract or the seeds of 1 vanilla bean pod

2 cups

(

250 grams

) all-purpose flour

3/4 teaspoon

baking soda

1/2 teaspoon

kosher salt
Cinnamon sugar for rolling
For the Glaze:
1 1/2 cups

(

180 grams

) powdered sugar

1/4 teaspoon

ground nutmeg, plus more for sprinkling the top of the cookies

3 tablespoons

whole milk or eggnog
---
Instructions
Preheat the oven to 350 degrees F.  Line baking sheet with parchment paper.
Using a mixer fitted with a paddle attachment, beat the butter in a large bowl on medium speed for about 1 minute.  Add the vegetable oil.  It may not fully incorporate with the butter, but that's ok.  Add the granulated sugar, powdered sugar, and all of the spices. Beat to combine.
Add the egg and vanilla, beating on medium speed until completely incorporated.
Stir in the flour, baking soda and salt all at once using a wooden spoon or the mixer set on low.
The dough will be soft. Refrigerate the dough for 1 hour or freeze for 15 minutes just so it's easier to handle.
For large cookies, dollop 2 Tablespoons of cookie dough onto the cookie sheet about 2 inches apart.  For smaller cookies use 1 Tablespoon for each cookie.  Press the dough evenly with your fingers or palm to 1/4-inch thickness.  Roll each cookie dough in a small bowl of cinnamon sugar.
Bake for 12 to 14 minutes for larger cookies or 8 to 10 minutes for smaller cookies.  Let the cookies cool on the baking sheet for at least 10 minutes before transferring to racks to cool completely.
In a medium bowl, whisk together the glaze ingredients to thick but spreadable. Spread each cooled cookie with graze just over the center, leaving the edges of the cookie free of glaze. Sprinkle with a bit of fresh nutmeg if you have it. Store cookies in an airtight container at room temperature for up to 4 days.
---
Photos with my friend Jon Melendez!