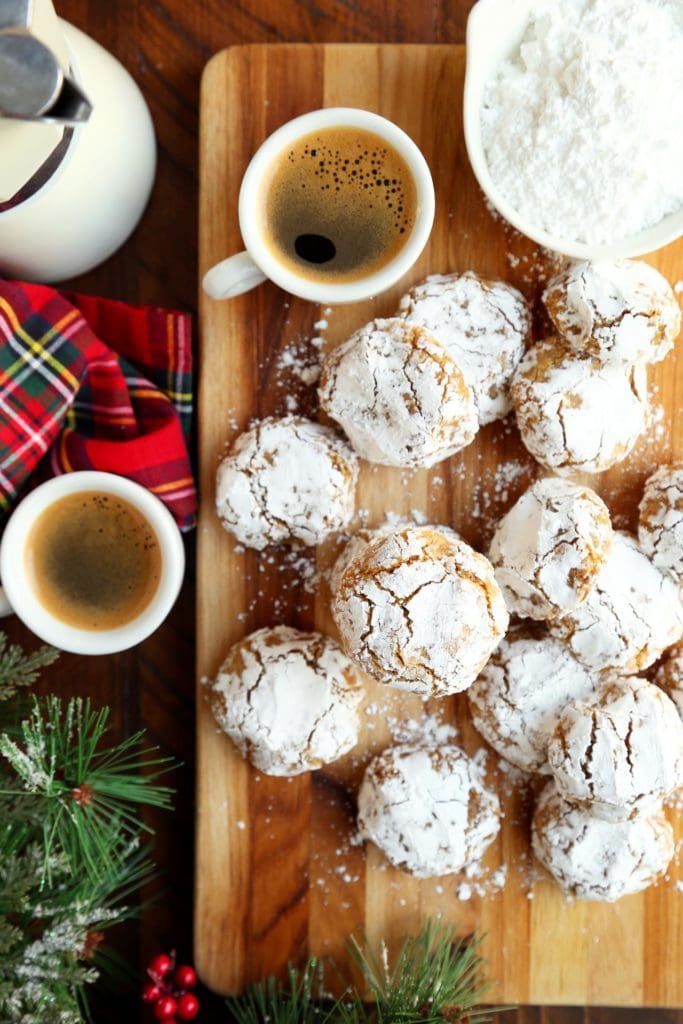 If you've flipped through the latest issue of Joy the Baker Magazine, you might have noticed that I went on an Italian Christmas cookie bender.  I just think there's so much possibility in an Italian pink bakery box tied with baker's twine and I wanted to create those possibilities for you.  I couldn't possibly pick a favorite cookie from that printed cookie section but the Red Velvet Ricciarelli Cookies are the almond flour cookies towards the top of the list.
Ricciarelli are traditional Italian biscuits in the macaron family thanks to the almond flour. They also happen to be naturally gluten-free and pleasingly chewy.  In the magazine I added cocoa powder and red food coloring but today I've gone with gingerbread spice and a glug of molasses.  A holiday twist on a holiday classic!
We're baking! Let's go!
Here's what you'll need for these Gingerbread Ricciarelli (Italian Almond Flour Cookies):
•  almond flour (you can use either blanched or unblanched almond flour)
•  egg whites beaten to stiff peaks with a splash of lemon juice
•  gingerbread spices: a teaspoon of ground ginger, a teaspoon of ground cinnamon, a bit of nutmeg, allspice, and a pinch of cloves.
•  molasses
•  vanilla extract
•  baking powder and kosher salt
•  powdered sugar for inside the cookies and to coat the cookies.
Start by whipped eggs whites and a small squeeze of lemon in a clean bowl until the eggs hold stiff peaks (or hold the lines of the beaters). I know we usually start with butter but that's not the case with these cookies!
In a separate bowl, sift together almond flour, powdered sugar, and spices.  Listen… I'm super lazy and I'll avoid sifting dry ingredients at all costs but DON'T SKIP THIS SIFT! It's important to make sure that there are no stubborn lumps in the powdered sugar especially.
Once sifted, add the egg whites to the dry ingredients two or three batches at a time.  Try to maintain as much of that egg white fluff as possible. You'll end up with a fairly thick, sticky dough.  Stir in the molasses and vanilla extract.
Shape the cookies into little ovals or rounds and cover completely in powdered sugar.
Place on a parchment paper lined baking sheet and leave the cookies uncovered at room temperature for about an hour before placing in the oven.  This very important step will allow the cookies to form a crust.  Just before baking, give the edges of the cookie a little pinch to help encourage the crackle as the cookie bakes.
Bake until puffed and crackled and just browned at the edges.  Allow the cookies to cool to room temperature before storing them in some sort of sealing container at room temperature.
Here's the wonder of the cookies! They're just as good, if not EVEN BETTER, in the few days after baking. The flavor will set and the almond flour cookies will become a perfectly chewy texture. I think they thrive for up to a week – perfect for the holiday season when we need our cookies to go the mile.
Print
Gingerbread Ricciarelli (Chewy Italian Almond Flour Cookies)
Author:

Prep Time:

1 hour 20 minutes

Cook Time:

15 minutes

Total Time:

1 hour 35 minutes

Yield:

about

20

cookies

1

x

Category:

dessert, holiday
---
Description
A chewy, holiday spiced cookie that is gluten free and gets better with time!
---
2

large egg whites
A dash lemon juice (about ¼ teaspoon)

2 1/4 cups

(

252 grams

) almond flour

1 3/4 cups

(

218 grams

) powdered sugar

1 teaspoon

ground ginger

1 teaspoon

ground cinnamon

1/2 teaspoon

fresh grated nutmeg

1/4 teaspoon

allspice
Pinch of cloves

¼ teaspoon

baking powder

¼ teaspoon

kosher salt

2 tablespoons

molasses

1 teaspoon

vanilla extract

1 cup

(

125 grams

) powdered sugar for coating cookies
---
Instructions
In the bowl of a stand mixer fitted with a whisk attachment, whip egg whites and lemon juice until stiff, foamy peaks form.
Using a fine mesh sieve, sift in almond flour, 1 3/4 cups powdered sugar, spices, and baking powder into a medium bowl. Whisk in the salt  Using a rubber spatula, fold the dry ingredients into the egg whites in two or three batches. Try to keep some of the lightness from the egg whites though the batter will be a sticky dough. Add molasses and vanilla extract, and fold in until combined.
Line a baking sheet with parchment paper. Using clean hands, roll dough into balls about 1″ in diameter.  Roll in powdered sugar until well coated. Shape into an oval, then arrange on a baking sheet with 2 inches of space between them for spreading. Flatten just slightly.
Leave at room temperature for about an hour or until the cookies have dried out and formed a dry shell. Pre-crack the shell by squeezing the cookies slightly from opposite corners.
While cookies are drying, place a rack in the upper third of the oven and preheat oven to 300 degrees F. When the cookies are ready, bake for 14-16 minutes. Until puffed and cracked and dry across the top.  Cool on the baking sheet for 10 minutes before transferring to a wire rack to cool completely before storing. Store in an airtight container at room temperature for up to 5 days.
---
Photos with my friend Jon Melendez.