I could argue that the very foundation of Joy the Baker is this recipe for Browned Butter Blueberry Muffins. Taking it aaaalll the way back to 2009 when I stumbled upon the wonder's of browned butter and juicy baked blueberries.  You loved them. I loved them so much they made it into my first cookbook and 13 very delicious years later, here we are making a teeny tiny small batch muffin recipe – equally perfect but now reflective of the fact that I'm in my 40's and will tolerate less nonsense, less leftovers, and less frivolous people eating my perfect muffins.
We've gone pretty far down the road in this micro-batch baking journey and I'm showing no signs of tiring.  I'm going to gather a serious collection of these recipes into a little paperback cookbook for you at some point soon.  Until then, I'll be setting Facebook alight with micro-batch baking controversy because I have the audacity to turn on my oven to bake a single cinnamon roll.
Here's your weekend recipe/ afternoon snack/ midnight nosh. It's the perfect amount of Lemon Poppy Seed Muffin for you and you, or you and yours.
Here are the ingredients you'll need to make this small batch muffin recipe:
•  all-purpose flour, though a gluten-free flour blend like Cup4Cup will also work wonderfully!
•  baking powder, baking soda, and kosher salt in small amounts
•  granulated sugar
•  lemon zest and lemon juice
•  melted salted butter plus plenty of room temperature salted butter for smearing on the warm muffins
• one large egg yolk
• a couple tablespoons of buttermilk
•  vanilla extract
•  poppy seeds
•  powdered sugar for a quickie glaze
•  optionally, you could add a small handful of blueberries or skip the poppy seeds and add chocolate chips. (I'm a weird person who likes lemon and chocolate together.)
We want all the lemon flavor we can coax into these two muffins.  Start with granulated sugar and lemons in a medium bowl.  We'll use our fingers to rub the lemon zest into the sugar creating a fragrant flavorful sugar thanks to the lemon essential oils.
Whisk an egg yolk and melted butter (or oil if you're trying to avoid dairy) into the lemon sugar.
In a small bowl whisk together the remaining wet ingredients – we're talking: buttermilk, lemon juice, and a splash of vanilla extract.
And if you want to skip the dairy, add any milk alternative you prefer.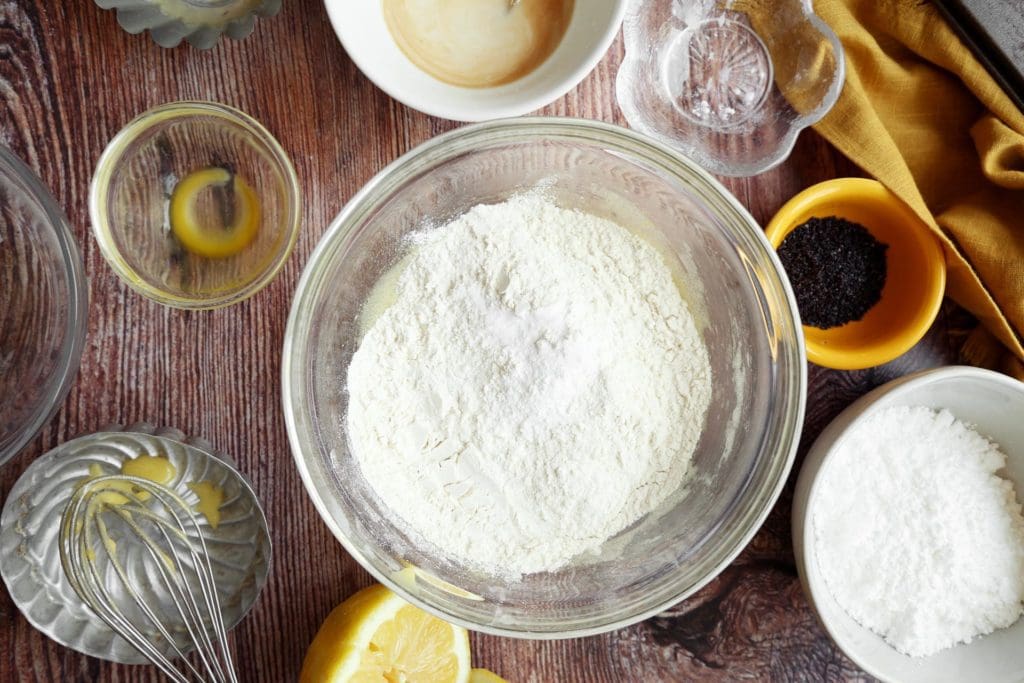 Sprinkle the dry ingredients across the sugar mixture and give it all a good stir with a wooden spoon or rubber spatula.
Stir until the dry ingredients are just combined but still visible before adding the wet ingredients and poppy seeds.  Fold to combine.  (Here's where you'd also fold in fresh blueberries or raspberries, or chocolate chips if you wanted to go wild! This is a choose your own adventure small batch muffin recipe.)
Now the question is – are you a paper liner person? Line two cups of a muffin pan with paper liners, or spray them with a spritz on non-stick baking spray.  Dollop and divide the batter (it'll be thick!) between the two cups. The cups will feel full but that's right – we want to baked big, beautiful, domed muffins.
Bake in the upper third of the oven, rotating the pan once during baking if needed, until golden around the edges and just firm through the center.
We'll remove the baked muffins from the pan just as soon as they don't burn our fingerprints clear off.  Make a quick lemon glaze and drizzle the warm muffins.  The glaze is optional though if you have a few spoonfuls of powdered sugar in the pantry, it's highly encouraged.  Sprinkle with a few more poppy seeds just to be extra. Split each warm muffin and slather with salted butter.
And sure – it's hard to eat just one or two muffins but that's all we baked, babes.
Below you'll find my ideal small batch muffin recipe AND I'm a huge fan of everything in the lemon poppy seed genre.  You too? Here's how:  
•  Lemon Poppy Seed Bars – lemon bars, plus!
•  Lemon Poppy Seed Breakfast Rolls – just imagine the cinnamon rolls of your dreams without the cinnamon
•  Lemon Poppy Seed Old Fashioned Doughnuts – fried, no-yeast, buttermilk doughnuts with a tender lemon scented crumb and lemon glaze – they're BEYOND.
Print
How To Make Two Lemon Poppy Seed Muffins
Author:

Prep Time:

10 minutes

Cook Time:

18 minutes

Total Time:

28 minutes

Yield:

2

muffins

1

x

Category:

breakfast, brunch
---
Description
A teeny tiny batch of lemon poppy seed muffins for you and your sweetie or you and you. Enjoy warm from the oven with a drizzle of lemon glaze and a big smear of softened salted butter.
---
2/3 cup

all-purpose flour

1/2 teaspoon

baking powder

1/8 teaspoon

baking soda

1/4 cup

granulated sugar

1/2 teaspoon

or so of lemon zest

2 tablespoons

melted salted butter, plus more room temp butter for serving

1

large egg yolk

2 tablespoons

buttermilk

1 tablespoon

fresh lemon juice

1/2 teaspoon

vanilla extract
A teaspoon or so of poppy seeds
For the Glaze:
A few big spoonfuls of powdered sugar
A teaspoon or so of fresh lemon juice
A few sprinkles of poppy seeds
---
Instructions
Place a rack in the upper third of the oven and preheat the oven to 350 degrees F. Spray two holes of a muffin pan with nonstick cooking spray. Great job.
In a small bowl rub together sugar and lemon zest until fragrant. Whisk in the butter and egg yolk.
In a small measuring cup whisk together buttermilk, lemon juice, and vanilla extract.
Measure the dry ingredients on top of the butter mixture and stir together with a spatula until just barely combined. Stir in the buttermilk mixture along with poppy seeds. That's your muffin batter – stir until no lumps or dry patches remain.
Spoon into two muffin cups – it'll feel full but that's encouraged. Bake for 16 -18 minutes until cooked through. Allow to cool until just warm.
Whisk together a quick glaze to your desired consistency. Drizzle over the warm muffins and serve with salted butter.
---
---
Nutrition
Serving Size:

1

Calories:

390

Sugar:

26g

Sodium:

193.6mg

Fat:

14.7g

Saturated Fat:

8.5

Trans Fat:

0.5g

Carbohydrates:

59.6g

Fiber:

1.3g

Protein:

6.3g