Get ready to indulge in the ultimate sweet, salty, nutty treat with these irresistible white chocolate macadamia nut cookies! Made with butter and brown sugar, and loaded with chunks of creamy white chocolate and roasted macadamia nuts, these cookies are perfect for satisfying your sweet tooth cravings (with a hint of salt for balance). Whether you're a seasoned baker or a beginner in the kitchen, this easy-to-follow recipe is bound to become a household favorite!

White chocolate macadamia nut cookies cookies were, hands down, the most exotic cookie of the 90's.  I was lucky enough to find this elite delicacy on the ground floor of the Westside Pavilion Mall in West Los Angeles at a little shop called Mrs. Fields.  You could smell Miss Ma'am's cookies a quarter of a mall mile away and there was no better way to spend hard-earned allowance money. My friends at the time were secretly buying thong underwear from Wet Seal they'd take home and hide from their parents but me?  I had planted myself in line for my favorite cookies.  Obviously my priorities were locked in early.  I was in it for the sweet white chocolate, buttery macadamia nuts and chewy centers.
I've made these nostalgic cookies more than a dozen times over the years and, if I'm being honest, there's not much nuance.  These are pretty dang sweet cookies. I've recently settled into my favorite iteration of these cookies thus far.  They're heavy on the brown sugar with a subtle hint of warming spices.  They're elevated just slightly from their mall days but still firmly planted, as they should be, at the in the 90's.
Here's our best white chocolate cookie recipe, friends! Let's bake!
Here are the ingredients you'll need to make these classic White Chocolate Macadamia Nut Cookies:
•  all-purpose flour
•  brown sugar (light brown sugar for a subtle caramel flavor or dark brown sugar for a more rich caramel flavor)
If you only have granulated sugar, here's how to turn it into brown sugar with a tablespoon of molasses.
•  baking soda
•  sea salt or kosher salt
•  ground cinnamon and ground ginger
•  vanilla bean extract or vanilla bean paste
•  unsalted butter, at room temperature
•  large eggs
•  white chocolate chips or chunks or morsels
•  dry-roasted macadamia nuts
As all good cookies start, we'll cream together copious amounts of brown sugar and softened butter in the bowl of a stand mixer or in a large mixing bowl with a hand mixer. Years back, in an advanced baking technique class, my instructor ran up my mixer as I was making cookie dough, instantly turned down the mixer speed, looked at me and said "low and slow." Low speed, slow speed as to not incorporate too much air into the cookie batter.
While the butter creams, whisk together the dry ingredients.  I add just the faintest hint of ground cinnamon and ginger. I think the spice adds a nice balance to the sweetness of the white chocolate macadamia nut cookies.
Two things that make this recipe unique: adding just an egg yolk instead of an entire second egg and splurging with a teaspoon of vanilla bean paste instead of vanilla extract.
Slowly add the flour mixture to the mixing bowl. Stir in the white chocolate chips and toasty, coarsely chopped macadamia nuts. The batter will be thick and stiff. We're making a sturdy cookie.
I like to wrap the dough and refrigerate it for at least hour.  The chill time gives the cookie dough an opportunity to hydrate the flour and firm the butter, making for a cookie that sits up nice and tall on the baking sheet.
If you don't have the time and patience to rest your cookie dough, I get you. You can bake these straight away, they may just spread a bit more than if you'd chilled them.
Either way, scoop cookie dough onto a parchment paper lined baking pan and bake until golden around the edges.
Pssstt: the cookie dough balls also freeze well to please your future self.
After a bake in the oven, finish each cookie with a sprinkle of sea salt to balance the sweetness of white chocolate.  Allow to cool on racks until folks start flocking to the kitchen.
If you like chewy cookies with a crisp edge, this is your ideal cookie just slightly under baked.
Serve in heaps, with milk.  See if anyone notices the hint of ginger because it's a delight!  Store any leftover cookies (pffft) in an airtight container.
If you need more inspiration, here are other chocolate chip cookies I love:
White Chocolate Cappuccino Cookies
Grapefruit and White Chocolate Cookies
Browned Butter White Chocolate Cookies (these ones have cream cheese in the dough!)
Print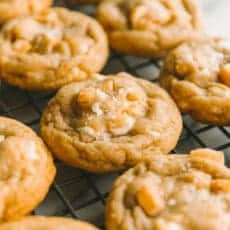 Classic White Chocolate Macadamia Nut Cookies
Author:

Prep Time:

1 hour and 20 minutes

Cook Time:

12 minutes

Total Time:

2 hours 32 minutes

Yield:

about

2

dozen cookies

1

x

Category:

dessert

Method:

baking
---
Description
A sweet and chewy cookie made with a combination of butter and brown sugar, eggs and vanilla. The dough is studded with white chocolate chips and macadamia nuts to create a delicious blend of melty chocolate and crunchy nuts. These cookies are perfect for satisfying your sweet tooth and hit with a bite of sea salt.
---
2 cups

(

254 grams

) all-purpose flour

2 teaspoons

baking soda

1 teaspoon

sea salt, plus more for topping the cookies

1/4 teaspoon

ground cinnamon

1/4 teaspoon

ground ginger

1 1/2

sticks (12 tablespoons, 169 grams) unsalted butter, softened to room temperature

1 1/4 cups

(

250 grams

) lightly packed dark brown sugar

1 teaspoon

vanilla bean paste or extract

1

large egg

1

large egg yolk

1 cup

coarsely chopped roasted and salted macadamia nuts, plus more for topping

1 cup

white chocolate chunks, chips, or pieces, plus more for topping
---
Instructions
In a medium bowl whisk together flour, baking soda, salt, cinnamon, and ginger.  Set aside.
Place butter and brown sugar in the bowl of a stand mixer with a paddle attachment or in a large bowl to mix with an electric hand beater.  Beat on medium speed until light and fluffy, about 3 to 5 minutes.  Stop the mixer and scrape down the sides of the bowl.  Add the egg and yolk and beat on low for 1 minute. Finally beat in the vanilla paste or extract.
Add the dry ingredients, all at once to the butter and sugar mixture.  Beat on low speed until the dough begins to come together and the flour just disappears.  Stop the mixer, add the nuts and chocolate and finish incorporating the ingredients with a rubber spatula.  Once all the flour is thoroughly mixed in, cover the bowl with plastic wrap and refrigerate for at least 1 hour though overnight will create a cookie with less spread.
Place a rack in the center and upper third of the over and preheat oven to 350 degrees F.  Line two baking sheets with parchment paper.  Dollop heaping tablespoons size balls of dough onto the baking sheet.
Bake cookies for 10 to 12 minutes, or until lightly browned around the edges.  Cool on the pan for 5 minutes, before transferring to a wire rack to cool completely.  Cookies will last, in an airtight container at room temperature, for up to 5 days.
---
Keywords: cookies, white chocolate, macadamia nuts, classic cookie recipe, holiday cookie