Hello friends!
Popping in on a Saturday hoping you have a stick of butter left out on your kitchen counter – we've got cookies to bake!
I've been baking my way through a batch of Dad's Browned Butter Chocolate Chip Cookie dough he left in the freezer for me last month. Cookies beget cookies. The more I have the more I want.
I had every intention of making a second backup batch until I stumbled upon an bottle of instant coffee normally reserved for chocolate cake or real and true coffee emergencies. The coffee and cookie craving brought me back to a cool DECADE ago when I lived in my tiny Venice apartment and made these Cappuccino Cookies.
Let's give this oldie but goodie the Clifford Wilson treatment aka browned butter and extra love.
The result is a sweet and pleasingly bitter coffee cookie that, I'm afraid to say, is irresistible. Even better than they were a million years ago in California.
Here's what you'll need for these coffee cookies:
• Butter: some softened, some browned and cooled.
• Brown sugar and granulated sugar. More brown that granulated because molasses is delicious.
• An egg and a yolk for binding and richness.
• Flour, baking soda, and salt.
• Instant coffee (not super fine ground powder, dehydrated coffee is preferred.)
• White chocolate though any chocolate would be delicious obviously.
To start, brown the butter and cool it in the refrigerator to a cool room temperature. It's important to the texture of the cookie that the browned butter not be piping hot when its incorporated with the softened butter and sugars. Slow your roll and let it chill.
Cream together the butters and sugars until pale and fluffy (it should also smell incredible which is a nice little bonus).
Beat in the egg and yolk until very well combined and again… downright fluffy.
Add the vanilla extract and whip it up.
Add all of the dry ingredients and use a spatula to mix it all together.
When no hidden dry patches remain, add the instant coffee and white chocolate. Now we're really onto something.
Chill the dough for at least one hour. (The butter needs to chill, literally… and the dry ingredients need to hydrate. It's science.)
Yes, this requires an extreme amount of patience but I'll turn a blind eye if you want to sneak a few bites of dough. Quality control, obviously.
Bake cookies on a parchment lined baking sheet with a few inches in between them for the spread.
These cookies are soft and chewy, with a crisp bite around the edges.
Now I have a freezer full of dough balls. The chocolate chip cookies I bake off one at a time after dinner. These coffee cookies make for a nice afternoon snack. That's how we roll these days. Thanks for letting me unearth this good one!
Print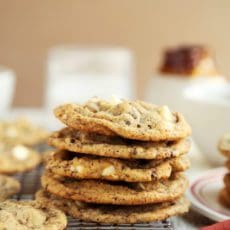 ---
Description
A coffee flavored cookie with browned butter and white chocolate. It's sweet and bitter and absolutely delicious.
---
1 cup

(2 sticks,

226 grams

) unsalted butter, divided. 1/2 cup softened, 1/2 cup browned and cooled to room temperature

1 cup

lightly packed light brown sugar

1/2 cup

granulated sugar

1

large egg

1

egg yolk

1 teaspoon

vanilla extract

2 1/3 cup

all-purpose flour

1 teaspoon

baking soda

3/4 teaspoon

kosher salt

3 tablespoons

instant coffee powder

1

heaping cup white chocolate chips
---
Instructions
Place racks in the center and upper third of the oven and line two baking sheets with parchment paper. Set aside and we'll preheat the oven after we chill the dough.
In a medium bowl, whisk together flour, baking soda, and salt.
In the bowl of a stand mixer fit with a paddle attachment, beat together butter and sugars until light and fluffy, about 3 to 5 minutes. Stop the mixer and scrape down the butter mixture with a spatula. Add the egg and egg yolk and beat on medium speed until mixture is fluffy, about 1 to 2 minutes. Beat in the vanilla extract. Stop the mixer and add the dry ingredients, all at once to the butter mixture. Beat on low speed until just combined. Stop the mixer, add the instant coffee and white chocolate chips and fold together with a spatula until well combined. Cover the dough with plastic wrap and refrigerate for about 45 minutes.
Just before you're ready to bake the cookies, preheat the oven to 350 degrees F.
Scoop cookie dough by the heaping tablespoonful onto the prepared baking pans. Bake for about 12 minutes, until lightly browned around the edges. Remove from the oven, allow to cool on the baking sheet for about 10 minutes, then remove to a wire rack to cool completely. Store cookies in an airtight container. Cookies will last several days. They're yummy.
---