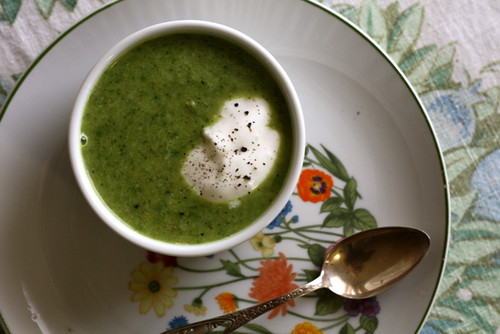 I…
Hate:  diet soda.  Like:  water.  Love:  bourbon.
Hate:  skinny jeans.  Like: Jeggings (jean leggings people… jean leggings).  Love:  my Levis.
Hate:  bathing suit shopping.  Like:  vintage dress shopping.  Love:  shopping with someone else's credit card… which never happens… ever.
Hate:  cold soup.  Like:  most soup.  Love:  um…. soup soup soup.  I really like soup.
'Hate' is such a strong word.  'Hate' was a bad word in the house I grew up in.  Mom, if you're reading this… yes, you taught me better… but look!  I'm eating my broccoli!  That's got to count for something.
This soup is pure and simple.  Green vegetables with a touch of spice and a splash of citrus.  I dolloped my soup with a bit of sour cream because… seriously?  Yum.
psssst… this soup is super filling too!
Broccoli and Arugula Soup
adapted from goop.com
makes enough for two large servings
1 tablespoon olive oil
1 clove of garlic, chopped
1/2 yellow onion, chopped
1 head broccoli, cut into large florets, about 2/3 pound
2 1/2 cups water or vegetable stock
1/4 teaspoon of sea salt and black pepper, or season to taste
1 teaspoon ground cumin
1 cup arugula leaves, packed
squeeze of 1/2 lemon
Heat olive oil in a large saucepan over medium heat.  Add the onions and cook until soft and translucent, about 4 to 5 minutes.  Add the garlic cloves and cook for another minute.  Add the broccoli and cook for about 4 minutes, until the broccoli is bright green in color.  Add the cumin, salt and pepper.  Stir to combine.
Add the water or chicken stock, lower the heat and cover.  Cook for about 8 minutes, until the broccoli has been softened. and is just tender.
Here's the tricky part.  We're going to blend the soup.  Working in batches, transfer some of the soup liquid and broccoli to a blender.  Add half of the arugula leaves and blend until smooth.  Transfer to a bowl or another pot while you blend the second batch of soup with the rest of the arugula.  Return to a pot over a low flame, check to see if it needs more salt or pepper.  Throw in the juice of 1/2 a lemon and serve.
This soup also freezes well!