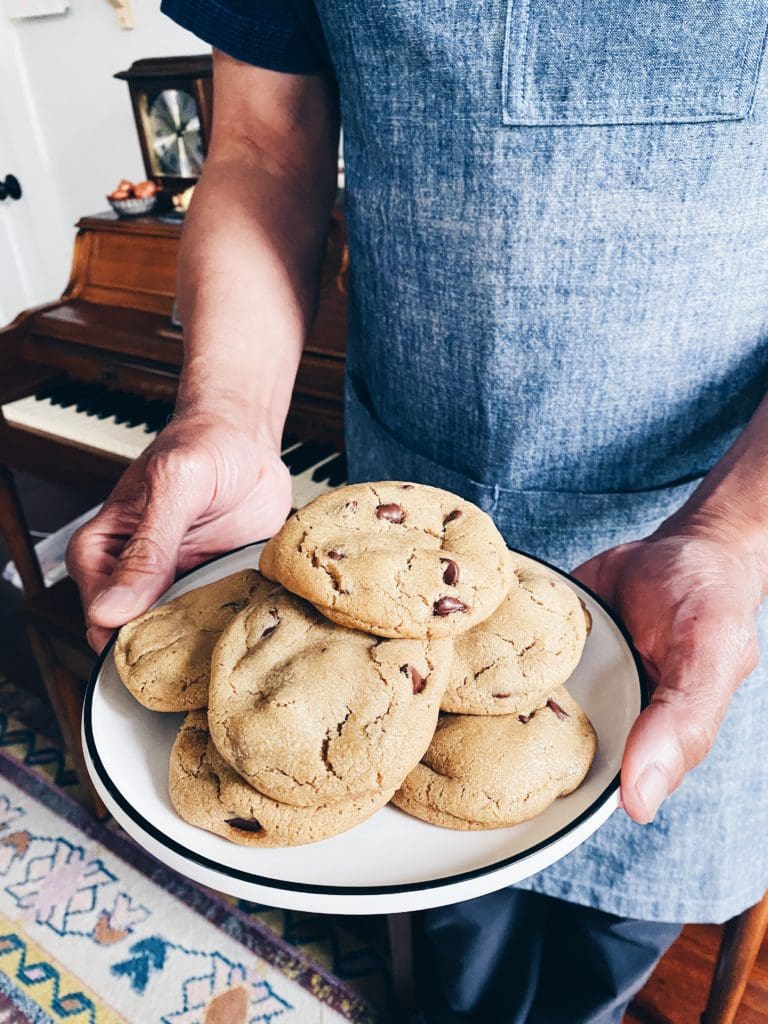 We've baked some real classics this past month, friends! Thank you for letting me sneak coriander and ginger into classic lemon bars and white chocolate macadamia nut cookies.  My tastes lately dictate that a little depth of spice has its place in every classic recipe.
Over the past 15 years as Joy the Baker, I've been know to go through phases.  You might remember back when I was adding bacon to everything (?) and using the world "bonkers" an alarming amount. Mixed into my different baking phases, I've managed more than a few tried and true recipes.  These are the most popular, most baked, most delicious:
First and VERY FOREMOST, Clifford Lesley's own, very Best Browned Butter Chocolate Chip Cookies. Last week Dad and I took to Instagram to bake these cookies and answer your questions and to say my Dad is TV READY would be an understatement so… we're just waiting on that call from the Food Network.  We just, casually and humbly, want this to be the only chocolate chip cookie recipe you bake with. They're that good.
One look at Everybody's Chocolate Birthday Cake and it's over.  This is a classic Hershey's-inspired chocolate cake so moist I could actually cry.  The frosting is a recipe I learned at a tiny Los Angeles bakery I worked in waaaay back in the day before I was Joy the Baker and I was just Joy the Girl Who Kneaded Dozens of Batches of Scones by Hand Because the Bakery Didn't Have Proper Equipment.  The chocolate frosting alone is worth every day of sore hands.
One Pot Chocolate Sheet Cake is the easiest way to bake that classic Neapolitan flavor into a sweet little birthday cake.  I highly suggest you serve this cake with Neapolitan Ice Cream to really drive the point home.
We all know that the best recipes come from spiral bound church cookbooks and this  French Silk Pie is no exception.  We have my friend Trevor's mom in South Dakota to thank for this classic.  God bless Cool Whip.
When it comes to cobbler, I trust my friend Ree Drummond because she has a literal RANCH to feed.  You can't be messin' around with a cowboy's cobbler.  My Favorite Blueberry Cobbler has a cakey cobblestone top and it's worth marking your summer calendar with this recipe for when true blueberry season rolls around.
The oldest classic round here is most definitely these Browned Butter Blueberry Muffins dating back to the year of our lord 2009.  I talk about getting a pedicure, being ticklish, and trying not to kick the pedicurist in the face.  Such was the Internet of 2009.  The muffins still hold up.
My late great Aunt Cordellia was famous (in my heart and belly) for her Potato Dinner Rolls which are so magically tender you'll wish you'd doubled the recipe.  Don't way I didn't warn you.
The second oldest classic is Dad's Sweet Potato Pie which has taken human form and become my actual little brother.
Rounding out our classics are these Kitchen Sink Cookies that seem to break the internet every September because they're a perfect after school cookie and coming off a hot summer of living our best lives – we all need a cookie when school and work kick back in.
Whenever I move into a new space, which is surprisingly often, I bake this Browned Butter Banana Bread.  It's grounding. It makes a house a home time and again.
Your turn!  What's your favorite Joy the Baker classic and what are you baking this weekend?
xo